I'm in favor of Target "de-genderizing" their toy section. Some commentators got out of hand thinking they were putting boy and girl clothes together as well, removing those labels, but that was never true. So let's focus on just the toys.
I have never liked "girl toys." What is meant by "girl toys?" If you looked at Target's aisle, you would know really quickly. It means pink. It means pastels. It means dolls. It means a lot of princess-Disney marketing and it means a lot more pink.
Boy toys? It means blue. It means dark colors. It means action figures and action toys and remote controlled toys.
Girls pretend. Boys control. Ha, sounds like modern dysfunctional relationships.
Some Christian's object to Target's decision. Matt Walsh:"Yes, Target, I Do Want My Daughter To Conform To Her Gender".
I agree that we need to model behavior for children. So for nearly five years now I've been really happy to buy pink brooms and pink shopping carts and pink Cuisinart and paint my iron, pink (couldn't find that one in pink) so that my daughter will know that the fact that all these pretending role playing toys are meant to imitate my life. I'm modeling domesticity for her. Naturally, my things should be pink because I am female and when you mix two X chromosomes you get a pink. I'm fortunate that the birth of my daughter coincided with breast cancer awareness because it's really easy for me to find lots of pink so I can model good feminine behavior for her.
I also made sure to buy pink high heels and pink fairy dresses for myself.
I got a little carried away there.
I've always believed in just buying toys that fit my kids interests. Since my son turns toy guns, sticks, hose faucets, and American flags into guns (my little budding Republican), it's not hard to figure out he'll like the Lone Ranger. He can bond with his dad because his dad likes guns and making hose water spray really hard out of diy contraptions. My daughter loves to get fancy so we bought Fancy Nancy books and I buy her headbands that are on sale and jewelry from thrift stores or yard sales.
It pisses me off when a doctor kit comes in pink. What doctor carries a doctor kit? No way, I mean, what doctor uses a pink doctor kit. My kid will be interested in the things she is interested in not because they are pink but because they are interesting and because interesting models of behavior exist in her life.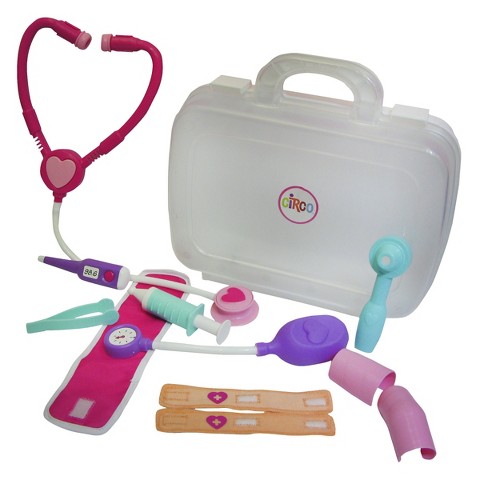 So you know what? I do the sweeping. My son wants to sweep. He has to do it with a pink broom because someone bought a pink broom for my daughter. Oh we're creating gender confusion! Watch out! Let me get him another gun.
Don't worry too much about him. He is practicing nurturing with his "baby doggy" rather than a doll. I guess that means we're on the right path.
I just think that role playing toys are amazing and should as closely reflect the real thing as possible and last more than one child. Melissa and Doug toys are fantastic. Let doctor kits be white and black and whatever other colors doctors like. Let brooms be green or black or wood (I really want a wood indoor broom).
Who decided pink was feminine and blue was masculine? It's an American trend that is not more than a century old.
So go ahead Target. Why not? They'll look better lying on my living floor if they're not pink.
Now for the substantial ideas, in a nutshell. To say that pink toys and role playing toys are feminine and feminizing and that dark-colored, action-oriented toys are masculine man-makers is a symptoms of fragmentary complementarity. This is for boys and this is for girls. These are masculine qualities; these are feminine qualities.
What is masculinity and femininity? They are the respective sexes "way of being in the world," so said Saint Pope John Paul II. They are a way of experiencing the world. Women do not actually wear rose colored glasses so it does not mean that pink toys will help a girl learn to embrace a feminine way of being in the world.
To reduce masculinity and femininity to superficial traits is to totally mis-define what it means to be masculine or feminine. It mislabels individuals who display qualities that don't fit the Bem Sex Role stereotypes. It makes the powerhouse female saints who are Doctors of the Church to be weird, anomalies, and not feminine.
We should nurture the qualities our children display, whatever they may be. We don't need pink and blue to do it.